Volvo-owned Polestar is continuing the Swedish automaker's tradition of safety, as the Polestar 2 was recently awarded a five-star safety rating by the U.S. NHTSA, the highest possible score a car can achieve in the agency's New Car Assessment Program (NCAP).
Volvo's tradition of safety and innovation in that field has continued through its partial ownership in Polestar. Owned alongside companies like China's Geely Motors, Polestar has been one of the EV industry's newest and most prominent names thanks to vehicles like the Polestar 2 experiencing early success.
For 95 years, Volvo has established itself as a leader in groundbreaking automotive safety development. Its development of the Polestar 2 has continued that tradition, as it features state-of-the-art and revolutionary safety features to improve overall performance in the event of a crash.
"Revolutionary safety features include inner side airbags for the front occupants, a Front Lower Load Path (FLLP) to absorb impact energy and thereby protect its occupants, and the "SPOC block," a unique aluminum structure designed to deflect objects like the wheel, tire and front suspension components away from the cabin and battery pack," Polestar said in its release.
FRONT LOWER LOAD PATH
Polestar describes this as a design strategy used to absorb energy with the front of the car in the event of a collision. With the lack of a large internal combustion engine to protect the cabin, Polestar has adopted this technology to reduce the risk of injury to passengers, as well as battery back deformation, it said.
INNER-SIDE AIRBAGS
Polestar utilizes inner-side airbags pioneered by Volvo, which have improved safety and impact protection. "The Polestar 2 features the latest version of these airbags, complementary to the regular ones. Integrated into the inner sides of the front seat backrests, they offer individual protection to the driver and the front passenger, reducing the risk of injury when the car is hit from the side," the company said about the airbags.
According to the NHTSA, the 2023 Polestar 2 received five-star ratings for Front Driver Side and Front Passenger Side collisions, as well as five stars across the board in terms of Side Crash assessments. Five-star ratings in rollover performance also capped off the Polestar 2's impressive performance in the assessment. The NHTSA stated the vehicle has a rollover risk of 8.30 percent.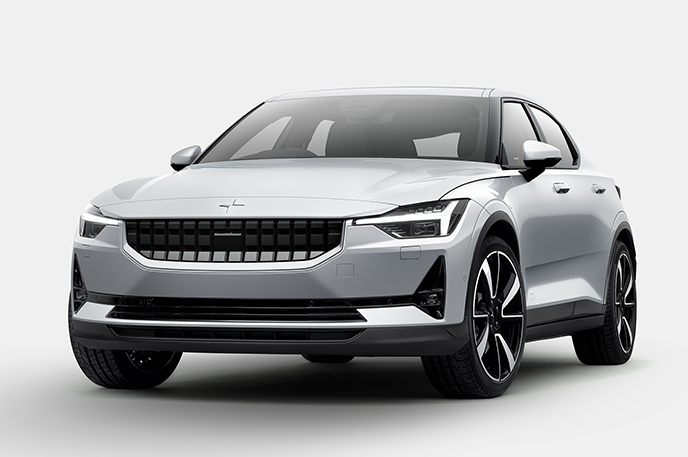 "Building on last year's 5-Star EuroNCAP rating, we are happy to announce that Polestar 2 has also received the benchmark 5-star rating from the NHTSA in the United States," Gregor Hembrough, Polestar's North American head, said. "Our customers can take pride and comfort knowing that their Polestar 2 features the latest technology, great design and sustainable materials complemented by a top safety rating."
Polestar brings several new features to the 2023 Polestar 2 compared to last year's model. In May, the company announced it would roll out significant improvements to its software, as well as design benefits that would achieve a more streamlined look.
Additionally, Polestar announced it would equip the 2023 Polestar 2 with a heat pump, which became popular in 2020 as Tesla equipped it in early Model Y builds. Heat pumps help move warm air more efficiently, helping owners with climate control without sacrificing range for it.
GOTHENBURG, Sweden (March 3, 2021) – Polestar 2 is one of the safest electric vehicles ever tested by the European New Car Assessment Programme (Euro NCAP), achieving a five-star rating. The Euro NCAP released its assessment of Polestar 2 which shows the Swedish electric performance fastback performing well according to all the latest tests and protocols.
Polestar 2 also compares favorably against other recently launched premium electric vehicles outside of its segment – it should be noted these vehicles were tested according to older, less stringent protocols in previous years.
Developed in the Volvo Safety Centre in Gothenburg, Sweden, the car's crashworthiness was naturally a top priority.
"Volvo Cars is one of our founders and by sharing their expertise with us, safety is a core competence in our cars. This shows in the excellent Euro NCAP rating of Polestar 2," says Thomas Ingenlath, Polestar CEO.
Safety equipment is of the highest order, ranging from eight airbags including the only inner-side airbags currently fitted to a premium EV that has been tested by Euro NCAP*, to the Front Lower Load Path and Severe Partial Offset Collision (SPOC) Block that are designed to mitigate impact on the battery pack and passenger compartment alike.
High-tech safety systems aim to ensure that safety extends beyond structural integrity and occupant protection, including vehicle, cyclist and pedestrian detection support, as well as lane- and roadside departure warning and mitigation systems. The highly advanced Pilot Assist, a driver assistance system, uses a radar and a camera to assist with acceleration, braking and steering at speeds of up to 87 miles per hour.
Ends.
Notes to editors:
*At the time of publication, the VW ID.3 was the only other BEV fitted with inner-side airbags (also known as central airbags) to have been tested by Euro NCAP.
Keywords
Press releases, Polestar 2
About Polestar
Polestar Automotive Holding UK PLC (Nasdaq: PSNY) ("Polestar") is a Swedish premium electric vehicle manufacturer. Founded by Volvo Car AB (publ.) (together with its subsidiaries, "Volvo Cars") and Zhejiang Geely Holding Group Co., Ltd ("Geely"), in 2017, Polestar enjoys specific technological and engineering synergies with Volvo Cars and benefits from significant economies of scale as a result.
Polestar is headquartered in Gothenburg, Sweden, and its vehicles are currently available and on the road in markets across Europe, North America, China and Asia Pacific. By 2023, the company plans that its cars will be available in an aggregate of30 markets. Polestar cars are currently manufactured in China, with additional future manufacturing planned in the USA.
In the US, the local Polestar office is located in the New York metro area, in Mahwah, New Jersey. Polestar Spaces have been opened in Los Angeles, the San Francisco Bay Area, and Orange County, Calif.; New York City; Denver, Colorado; Boston; Central and Southern New Jersey; Dallas and Austin, Texas; Detroit; Minneapolis; Phoenix; Seattle; Atlanta; Charlotte, North Carolina; Connecticut; South Florida; and Washington D.C.
Polestar has produced two electric performance cars. The Polestar 1 was built between 2019 and 2021 as a low-volume electric performance hybrid GT with a carbon fiber body, 619 hp, 738 lb-ft of torque, and an electric-only range of 52 miles (EPA) – the longest of any hybrid car in the world.
The Polestar 2 electric performance fastback is the company's first fully electric, high-volume car. The Polestar 2 model range includes three variants with a combination of long- and standard range batteries as large as 78 kWh, and dual- and single-motor powertrains with as much as 476 hp and 502 lb-ft of torque.
From 2022, Polestar plans to launch one new electric vehicle per year, starting with Polestar 3 – the company's first electric performance SUV which launched in October 2022. Polestar 4 is expected to follow in 2023, a smaller electric performance SUV coupe.
In 2024, the Polestar 5 electric performance 4-door GT is planned to be launched as the production evolution of Polestar Precept – the manifesto concept car that Polestar released in 2020 that showcases the brand's future vision in terms of design, technology, and sustainability. As the company seeks to reduce its climate impact with every new model, Polestar aims to produce a truly climate-neutral car by 2030.
In March 2022, Polestar revealed its second concept car, an electric performance roadster whichbuilds on the design, technology and sustainability ambitions laid out by Precept and showcases the brand's vision for future sports cars. The hard-top convertible presents an evolution of the unique design language first shown by Precept and emphasises a dynamic driving experience. The concept further develops the focus on sustainability and technology, aiming towards greater circularity. Polestar confirmed in August 2022 that a version of the concept will be produced as the Polestar 6 electric performance roadster, with launch expected in 2026.